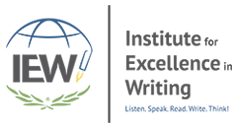 That's you, moms and dads! Learn the methods that have made the Institute for Excellence in Writing the go-to resource for developing writing skills.
It's not just another writing curriculum; it's an institute for writing and homeschool parents can tap into this resource to learn HOW TO TEACH writing!
IEW is to equip teachers and teaching parents with methods and materials which will aid them in training their students to become confident and competent communicators and thinkers.
Using the four language arts—listening, speaking, reading, and writing—IEW methods have been proven to be effective for students of all ages and levels of ability, including those who are gifted, have special needs, or are English language learners.
In order to succeed in every area of life, children must hone the skills needed to communicate confidently and effectively. Through the process of learning to write well, students learn how to think clearly and to express themselves eloquently and persuasively. IEW's  goal is to equip you to assist your child in this process.
Meet with a representative of IEW at the SETX Homeschool Expo and find out why everyone's talking about IEW as the most effective and useful writing resource you'll find. View their materials and learn how effective you can be at teaching your child to write, when you have the right tools. You'll learn along with your child too!
You may want to start with the IEW Decision Tree, a tool that will help you decide where to begin with our curriculum. It is designed primarily for those who are new to the program. Find out more about IEW in our informational brochures at the SETX Homeschool Expo at Ford Park June 22-23, 2018. 
Andrew Pudewa–IEW