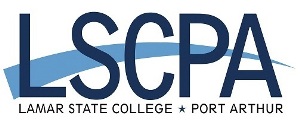 Don't wait until your child is a junior or senior to find out that  Lamar State College Port Arthur campus has opportunities available to help you develop a program of study aimed at guiding him or her an easy start after high school. An easy transition is possible through Dual Credit from LSCPA or through a variety of Technical Programs offered at this friendly, right-here-at-home campus where your young student can get involved, work toward certifications, an Associate degree and/or gain credits to transfer easily to a four-year institution.
Visit their booth at the SETX Homeschool Expo 2017 in Lumberton, Texas June 24! You will find out about the programs they offer and what you can do now to be preparing your child for that easy transition. LSCPA will show you how they are working to help you and help your student get the most out of high school and get ready for a great experience as a student at Lamar State College Port Arthur!
Academic and Technical Programs
Academic Programs
This Division is responsible for scheduling and administering the courses that transfer to four-year institutions, allied health programs that lead to certification or licensure, non-credit continuing courses, on-line courses, and courses conducted for dual credit in area high schools.
Lamar State College-Port Arthur offers general academic courses leading to Associate of Arts and Associate Arts in Teaching degrees. The courses in these degrees are designed to transfer to four-year institutions and include accounting, anthropology, art, biology, business, computer science, chemistry, criminal justice, drama, economics, education, English, geography, geology, government, history, home economics, mathematics, music, physical education, physics, psychology, speech, sociology, and Spanish.
Learn more about their Academic Programs
Technical Programs
The Technical Programs Division offers thirty-four (34) technical education programs designed to provide students with the knowledge and skills necessary for employment in business and industry. Lamar State College-Port Arthur offers technical programs in fields that include allied health, business, industry, music, nursing, and art.
Students that complete a technical education program earn an Associate of Applied Science (AAS) Degree or a Certificate Degree. Associate of Applied Science Degrees take approximately two years to complete and include technical courses and some general education courses. General education courses include courses in humanities, communication, mathematics, and social awareness.
Certificate degree programs include technical courses and take approximately one or two semesters to complete.
Learn more about their Technical Programs
Dual Credit Courses
Dual Credit is an opportunity for high school juniors and seniors to earn high school and college credit simultaneously. Students demonstrating college readiness through a college placement exam can earn college and high school credits in the same course by attending classes at their high school, on the Lamar State College Port Arthur campus, and/or online.
LSCPA partners with school districts, charter schools, private schools, and home school parents to offer academic and technical courses.
Texas Education Code, §§29.182, 29.184, 61.027, 61.076(J), 130.001(b)(3) – (4), 130.008, 130.090, and 135.06(d) provide the Board with the authority to regulate dual credit partnerships between public two-year associate degree-granting institution and public universities with secondary schools.