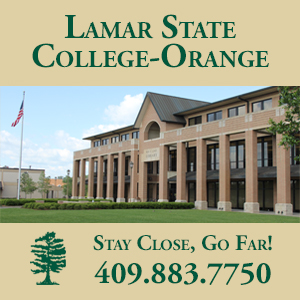 You want our children close to home, right? Homeschooling nurtures a love for being close to home and Lamar State College-Orange can help you keep it that way! Begin now looking at options in how to help your child find a direction in studies during and beyond high school. LSC-O offers dual credit to get started early working toward certificates and degrees at a greatly reduced price.
What questions do you have about college preparation or entrance?
Meet with and talk to advisors and educators from Lamar State College- Orange at the SETX Homeschool Expo at Ford Park June 22-23.
Ask all the questions about what they offer and how to prepare your child for attendance.  Find out what may interest your child.
Not considering a degree? The Workforce Development Department of Lamar State College-Orange provides non-credit learning opportunities for the community as well as customized training programs to meet the needs of local businesses and industry. Workforce classes are open to everyone and our commitment is to increase our students' knowledge and skills needed for their current jobs and preparation for future career advancement.
Lamar State College-Orange is a great campus to start an education or to develop professionally. Caring and competent instructors, beautiful facilities, and great student activities make it an unsurpassed choice for students.
Want to stay even closer?
Benefits of enrolling in an online course at LSC-O are:
Wonderful opportunity to take classes from nationally recognized online instructors.
Excellently delivered online classes
"Attend" class anywhere you want. Log on to class using any computer with Internet access – at home, at work, at the local library, or on campus.
"Attend" class anytime – 24 hours a day, 7 days a week.
Wide variety of communication tools such as safe and secure chat rooms, email and discussion boards to communicate with your instructors and classmates.
Set your own time-schedule. Work at your own pace while remaining mindful of deadlines and due dates.
Avoid traffic jams, save gas, money, and time!
Health Sciences & Workforce Technology
The Health Sciences & Workforce Technology Division of Lamar State College-Orange is proud to offer you the opportunity to meet your goals in the health care field.
Health care is an excellent career choice.
The Health Sciences & Workforce Technology Division offers degree and certificate programs which are designed to prepare students for careers in specific health care occupations. The programs range from two semesters to two academic years in length.
If you would like more information about preparing for a career in health care, just click on the appropriate link below:
June 22, 2-6 pm
and
June 23, 9am-4pm
Ford Park Entertainment Center
5115 IH 10 Access Rd
Beaumont, TX 77705
Hotel and visitor's information: www.beaumontcvb.com. Reserve your room at the MCM Elegante Hotel for a great price of $99 for this event.
$10+tax with online early registration
or
$15 (tax included/cash, debit or credit) at the door