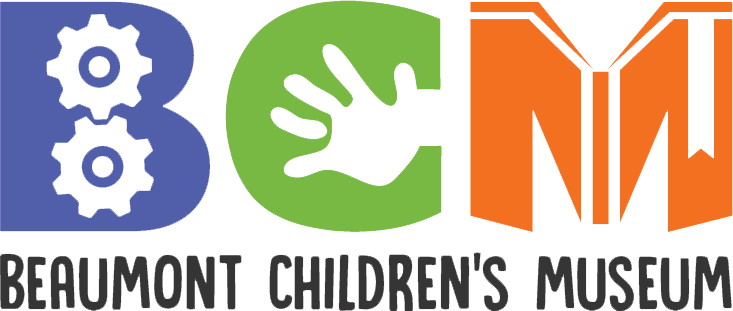 Don't you just love to see your young child explore and learn with enthusiasm? Recently the SETX Home School Science Fair was held at Beaumont Children's Museum. Because they encourage home school families to take an active role in promoting their children's growth and development in the science and technology fields, BCM sponsored this event and was a huge part of making it happen. While we were there, all the children (even the teens!) enjoyed the learning-through-playing activities that fill the museum. What an amazing place! It's a hidden gem for southeast Texas educators, particularly home school families, who have great opportunity to use this resource all throughout the day.
This gets better! Beaumont Children's Museum will be at the SETX Homeschool Expo June 22-23 with fun and exciting learning activities for your youngster. Visit their booth and their interactive children's workshop and find out just how fun learning can be! 
BCM's MISSION AND VISION
​​BCM is a museum that believes in learning through playing. Their exhibits are carefully selected to promote a S.T.E.A.M. focused learning base (Science, Technology, Engineering, Art, and Math). They strive to promote a fun and interactive environment where children thrive and get excited about learning.
​
Their  MISSION:Igniting the growth of children, families, and communities through interactive learning.
​Their 

VISION:  To encourage and inspire children to think for themselves, confidently ask questions, question answers, and understand the world around them.
You're Going to Love this Place!
And there's no shortage of engaging summer camps. Look at this schedule for the remaining summer camps:
June 25-29      Imagineering
FULL DAY (Entering 3rd- 5th)
Kids will spend the week designing, imagining and building with LEGOS® and other materials. Students will learn how to build contraptions and participate in contests throughout the week to expand their engineering knowledge.
July 9 – 13       Critter Camp
HALF DAY Morning (Entering 1st – 3rd) OR Afternoon (Entering 3rd – 5th)
Our Critter Camp gives children an up-close and personal experience with animals, animal habitats, diet, behavior and more. Our staff and instructors will teach students about respecting animals and how to protect the amazing animals that share our planet. Local organizations will bring their knowledge and love of animals to camp each day with amazing interactive programming. Your child will have a special encounter with animals.
July 16-20        BASF Kids' Lab
HALF DAY Morning (Entering 1st – 3rd) Afternoon (Entering 3rd – 5th)
Kids will become scientist during this week long camp. BASF brings science to life through fun hands on activities that explore chemistry and other science wonders.
July 23 – 27       Robotics Level 2
(Entering 4th – 6th) – FULL DAY
This program incorporates real-world applications of science, technology, engineering, art and math (STEAM). Students will be immersed in teamwork while they are designing, programming, and competing using LEGO MINDSTORMS robots. Kids will also be learning what it's like to engineer and design robotics on land, in the air and underwater through presentation from outside professionals.
July 30 – August 3   Space Rangers
HALF DAY Morning (Entering 1st – 3rd) OR Afternoon (Entering 3rd – 5th)
Boldly go where few have gone before! During this week, students will explore the universe around them. Students will learn about astronomy, engineering, flight, and so much more!
Aug 6 – Aug 10         Kidz Art – Messy Little Monsters 🙂
HALF DAY Morning (Entering 1st – 3rd) OR Afternoon (Entering 3rd – 5th)
This week is all about expanding a kid's love for art and being creative. Students will be working on different art projects all week and being trained by local artists. Be prepared to get messy and have fun during this camp!
Aug 13-15 (3 day Camp)  Create Your Own Adventure
HALF DAY Morning (Entering 1st-3rd) OR Afternoon (Entering 3rd – 5th)
Are you a budding poet, flourishing storywriter, promising illustrator, or even future famous author? Would you like to write in a relaxed, social atmosphere? If so, join us for Build Your Story Camp! Spend a fun-filled week of your summer with other young writers exploring and developing your own creative writing abilities while telling YOUR story. Who knows whom you'll meet and what you'll write?
​Come on out to the SETX Homeschool Expo at Ford Park June 22-23 and learn more about Beaumont Children's Museum!
June 22, 2-6 pm
and
June 23, 9am-4pm
Ford Park Entertainment Center
5115 IH 10 Access Rd
Beaumont, TX 77705
Hotel and visitor's information: www.beaumontcvb.com. Reserve your room at the MCM Elegante Hotel for a great price of $99 for this event.
$10+tax with online early registration
or
$15 (tax included/cash, debit or credit) at the door
​