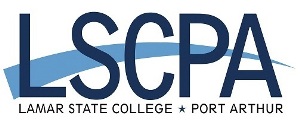 If you've been thinking about your child obtaining college credits while in high school, but found the application and registration process daunting, you need to check out Lamar State College at Port Arthur (LSCPA.) Not only do they encourage homeschool applicants, but they are going out of their way to serve you! With an office created just to assist incoming students in navigating the process of enrolling as a dual credit student, LSCPA is making the process clear and easy! Lamar Port Arthur is a great place to get an early start earning a degree.
Providing valuable, job-ready skills — the ones that move your life forward and link classroom to career and an academic curriculum that will transfer to a four year college or university, LSCPA offers students a friendly, safe environment while providing great opportunities for young students to get a great start. We have heard exciting things about Lamar Port Arthur from many homeschool students who earned credits during high school and went on to earn degrees!
There is so much benefit to slowly acclimating our students into campus life and Lamar State College Port Arthur partners with parents and students to offer academic and technical courses to boost your and your high school student's productivity.
Stop by the Lamar State College- Port Arthur exhibits at the SETX Homeschool Expo and learn more about their workforce program that offers students the skills, knowledge and certifications to get right to work, their dual credit program and the great start they can offer your student!
SETX Homeschool Expo
June 22, 2-6 pm
and
June 23, 9am-4pm
Ford Park Entertainment Center
5115 IH 10 Access Rd
Beaumont, TX 77705
Hotel and visitor's information: www.beaumontcvb.com. Reserve your room at the MCM Elegante Hotel for a great price of $99 for this event.
$10+tax with online early registration
or
$15 (tax included/cash, debit or credit) at the door
​
Facebook: SETX Homeschool Expo
Instagram: SETXHomeschool
Twitter: SETXHomeschool
Lunch options will be available for purchase in the Ford Park Concessions Booth.