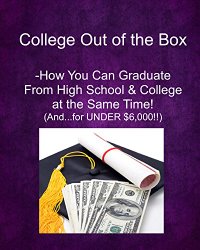 Renee and Terry LoDolce have done it! And now they want to share with you how you can do it.
Saving thousands of dollars in tuition and years of on-campus studies, by doing things "out of the box," students can learn and accomplish much more than we often allow them to.  Visit their booth at the Southeast Texas Homeschool Expo to find out more about doing so much more academically than you thought you could in less time than you ever considered.
Renee LoDolce can show you how to graduate your student from college and high school at the same time (for under $6000!). This could be very useful for SETX homeschool graduates!
From Renee: "$6,000 is an awesome price to pay to be able to get your bachelor's degree. BUT what if I told you you can do even better than that?? My son was able to earn scholarships, free college credits and free online dual credit classes to help out even more. To find out how, make sure you order our book "College Out Of The Box" on Amazon, Kindle or E-Junkie for only $9.99!! I give you all the links and places to go for cash scholarships, places where we got FREE dual credit classes and many other resources we have used over the years!"
See her free You Tube seminar: